Hello and welcome back
to Old Highway Notes. This week we return to
San Diego
where we had been looking at the murals in
Chicano Park
. We will continue North on Harbor Drive tracing the route of old
Highway 101
North into San Diego. But first, let me tell you about an improvement I have added here on Old Highway Notes. Under the "
Links and related Social Media
" tab at the top of the page you can find links to all of the subject matter I used for reference on each post. Check it out if you ever want to know more about the subjects I am telling you about, I hope you will find it useful. Now, on with our trip....
On The Road and Some Musical Notes About San Diego
This is a pretty bland stretch
of road. On one side we have the chain link fences of the Naval Base, on the other side of the road the tracks for the Tijuana Trolley parallel the road. As a diversion I will throw you a little musical Note here. San Diego is the launching point of a few well known bands who left here to gain their fame elsewhere (usually Hollywood). In addition to Tom Waits who we previously mentioned, San Diego was the birthing point of Iron Butterfly of "In-A-Gadda-Da-Vida" fame before leaving for Hollywood and finding success. Eddie Vedder also came from here before here answered an ad to try out for a band in Seattle and gaining his fame with Pearl Jam. The heavy metal band Ratt also was formed here but too off when they went to Hollywood. Anyway, back to the drive...
Google Street View
It's not far to down the road
and the skyscrapers loom larger in front of us. After crossing over an overpass we come upon a view of San Diego Padres home field
Petco Park
on the right hand side of the road. Opened in 2004, replacing Jack Murphy/Qualcomm Stadium as the home park of Major League Baseball's San Diego Padres., Petco Park is a beautiful facility. A modern throwback design of steel girder construction, painted white with blue columns to be evocative of the sails and water of the Marina district that it calls home. Unlike many ballparks where the batter faces Northeast, the batter at Petco Park faces due North allowing for the stadium seating to be provided with spectacular views of the city skyline, the bay, and Balboa Park.
Beautiful Views are a highlight of Petco Park (Flickr/cc)
The Western Metal Supply Co
. had a hundred year old historical building located on the site for the stadium, so the building was renovated, retrofitted, and incorporated into the design of the park. The South East corner of the building has a strip of metal angle iron that runs up its edge is painted a bright yellow and serves as the left field foul pole. The building houses a team store, private suites, a restaurant and rooftop seating. It ties the field into the cityscape backdrop effectively and beautifully.
Now, THAT is some historical preservation. (Flickr/CC)
While the Stadium was being built
PETA took advantage of the opportunity to publicize their long standing protest against Petco and the way it operates. From
Wikipedia
:
During the construction of the stadium, the Padres offered fans the chance to purchase bricks outside of the concourse and to dedicate them.

Soon after this,

PETA

attempted to purchase a brick to protest Petco's treatment of animals (PETA and Petco have a long-standing dispute over this matter), but the first two attempts were denied. Undeterred, PETA succeeded on its third attempt by purchasing a brick which read "Break Open Your Cold Ones Toast The Padres Enjoy This Champion Organization." When one reads the first letter of each word, it forms an

acrostic

which reads "BOYCOTT PETCO." The Padres decided to leave the brick there, saying not enough people walking by would notice the secret meaning.

[21]
The stadium has some notables events
associated with it. The first baseball game held there was the first round game in a San Diego State University hosted four round NCAA invitational tournament. The San Diego State Aztecs, coached by former Padre star Tony Gwynn, defeated Houston that day in a game that broke the all-time attendance record in college baseball.
On August 4, 2007,
fans at Petco Park saw Barry Bonds hit his 755th career home run, tieing Hank Aaron's record.
Even with that milestone,
Petco Park was considered extremely "pitcher-friendly". To address that concern, and maybe generate a little more scoring action for the fans to enjoy, some changes were made in 2012. Again from
Wikipedia
:
Petco Park has been one of the most extreme pitcher-friendly ballparks in the majors since its opening. Following the conclusion of the

2012 season

, The Padres announced that they were moving the fences in to make this ballpark more favorable to hitters than it had been previously. The left-center field wall was moved in from 402 feet to 390 feet, the right-center field wall was moved from 402 feet to 391 feet, and the right field wall was moved in from 360 feet to 349 feet. In addition, the visiting team bullpen was moved from foul territory in right field to behind the left-center field wall, right behind where the Padres bullpen is. The right field wall was also lowered from 11 feet to 8 feet, and the out-of-town scoreboard was relocated.

[20]
One last piece of trivia
about Petco Park, It is the only Major League Baseball stadium to have a bee delayed game. On July 2, 2009 a small swarm of honeybees took up residency in a chair in left field. While a beekeeper was called in for an emergency extermination of the swarm, the game was put on hold for 52 minutes.
Over The Trolley Tracks and Across The Street
The other side of Harbor Drive
across the tracks of the well known Tijuana Trolley is The
San Diego Convention Center
.A monster of a building, it is probably best known among cyber-citizens as the site of the annual ComicCon in San Diego. It straddles the land between Harbor Drive and the slips of the Marina. Completed in 1989,and expansion completed in 2001, it's most well known architectural feature are the "sails" attached all over the building. Triangular shapes of concrete and steel evoke the boats in the adjoining Marina.
Pass the Hotels to Go To Seaport Village
As we continue North on Harbor Drive
we are surrounded on all sides by hotel skyscrapers as all the big hotel chains compete for the lucrative San Diego convention trade. A half a mile more and we hit the intersection of Harbor Drive and Pacific Highway (That would be old Highway 101). Ruocco Park, a lawn surrounded by a promenade with benches sits at he edge of the waterfront. overlooking the Bay. To its left is
Seaport Village
. Opened in 1980, this would be a typical shopping streetscape experience kind of place like so many cities in America have built in the last 25 years. Featuring more than 70 shops, galleries, and restaurants on 90,000 SF bordering the San Diego Bay with a view towards Coronado Island and its famous bridge. The building are built in a variety of styles, from Victorian to traditional Mexican to Cannery Row shanty.
The lush climate
and plentiful foot traffic caused by conventioneers as well as cruise ship passengers from the nearby cruise ship terminals keep Seaport Village a lively place. There are buskers, shopping, dining, not to mention views and a very pleasant environment to stroll through with the usually sunny and mild California coastal weather and flowering planter boxes all year around. For those of you who are into such things, it also features a Looff Carousel built in 1895.
I found a YouTube user
,
travelandtransitions
who posted some informative videos. It is home movie quality and the wind on the microphone can be a bit much, but still a nice tour. I also found a clip of a family visiting the Carousel with their toddler having a ride. Last is a professionally shot video with a pleasant reggae soundtrack showing off the charms of Seaport Village, San Diego, CA.
I leave you at his point
to enjoy the amenities of Seaport Village until we meet up again in three weeks to resume our journey North on the old
Highway 101
as it slices through
San Diego County
. Next week we return to
Interstate 95
where we have been looking into
Spring Training
in
Florida
. Two weeks will take us back to
Chicago
on
Route 66
where we continue our biography of
Muddy Waters
. I hope you can join us.
Before you go, two questions
. If you were visiting San Diego, or live there and have a suggestion, what would you make a point of seeing? If you have been to San Diego what was the most memorable part of your visit? Let me know in the comments. Thanks for reading and if you enjoyed it, please tell a friend about this blog. If you didn't enjoy it, let me know what you do not like in the comment section. Until we meet again, enjoy the views!
Route 66: 0 Miles/1 State/621 Tracks/141 Videos/26 Posts
Highway 101: 19 Miles/2 Countries/1 State/503 Tracks/186 Videos/23 Posts
Interstate 95: 77 Miles/1 State/24 Tracks/60 Videos/8 Posts
If you like what you have read here I'd like to ask you a favor. If you purchase any item on Amazon after you link to them in the little Amazon search window below, I will get a little something from them. It doesn't cost you any extra and I cannot see what you have purchased. With your help, I can keep the show on the road for you.
Thanks!
Another way to support this blog is to drop a little something in my guitar case, you can donate on PayPal:
To read more Old Highway Notes, choose an off ramp and click on the highway sign: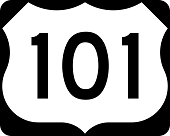 Vista Points-Be social, Get more info, View our YouTube playlist



Its not a highway without gift shops. Visit ours-It has new items every week!