Hello and welcome back
to Old Highway Notes. Once again we return to Miami and the start of Interstate 95. This week we will make some miles. So far we have bopped around the Miami area a little bit to take in the sounds and history. We will be hitting the road from the northern most place we have been so far. We start off from
Gulfstream Park where the Miami International Pop festivals were held
. From there we will continue up Interstate 95 for about 65 miles leading us to West Palm Beach Gardens. Here is one last look at Downtown Miami from an old postcard we found along the way.
OK, now lets take a look at the map.
A Day At The Races: Hollywood and Hallandale Beach
Musically, I found this strip of highway pretty barren
when I was doing research on the area. I mean, there are a lot of celebrities with Florida homes, but it seems there creativity was generally exercised elsewhere, with one exception we will get to later. So lets concentrate on the scenery. This vintage postcard shows Gulfstream Park, the start of our trip from sometime in the 1930's or 1940's before the Interstate was put in.
These days Gulfstream Park
has returned to its natural gambling roots and the days of hippy communalism have given way to gambling and shopping. I guess that's always what a horse track should be about any way..Here is a play list of how things are at Gulfstream Park these days.
Fort Lauderdale: Where The Boys Are
We hit the highway
and begin to drive North. This dash cam gives us a view as we head into Fort Lauderdale. You will note there are some nasty storm clouds on the horizon.
Here are some old postcards
from Fort Lauderdale.
Air view, Bahia Mar Yacht Basin, Fort Lauderdale, Florida (flickr/CC)
Fort Lauderdale Beach Hotel and Trade Winds Hotel, Fort Lauderdale, Florida (flickr/CC)
To show you Fort Lauderdale today
I assembled a play list that has a short history of the city, a tribute slide show video, and a dash cam tour around town.
As the video history mentioned
, Fort Lauderdale has a reputation as a popular spring break destination, A lot of its fame can be traced back to The 1960 film "Where The Boys Are". From
Wikipedia
:
Where the Boys Are

(1960) is an

Metrocolor

and

CinemaScope

American

coming-of-age

comedy film

, written by

George Wells

based on the novel of the same name by

Glendon Swarthout

, about four

Midwestern

college co-eds who spend

spring break

in

Fort Lauderdale, Florida

. The title song "Where the Boys Are" was sung by

Connie Francis

, who also co-starred in a supporting role. The film was aimed at the teen market, featuring sun, sand and romance. Released in the wintertime, it inspired thousands of additional American college students to head to Fort Lauderdale for their annual spring break.
The theme song used in the movie
was not the version that was preferred by Connie Francis and its writer, Neil Sedaka. They released a studio version of the song in January of 1961, that created a synergy in demand for the film and even more spread the fame of the Fort Lauderdale when classes were off for the week. It was a successful record. Again from
Wikipedia
:
The different versions of the track would provide her with a #1 hit in some fifteen countries.[5] The Japanese version Atashi-no was even released in the US on MGM Records Single K 13005.[1]Where the Boys Are was comparatively less successful in the English speaking world: its US peak was #4 while the track peaked on both the UK and Australian charts at #5.[6] However, Where the Boys Are became Francis' signature tune and remains a fan favorite.
My music collection
has an box set called The Brill Building Sound that features many of the songs Connie Francis and Neil Sedaka released including this one, our lone play list addition this week. Its interesting that it would make a Florida play list since it was written in New York and recorded in Hollywood, but it is forever tied to Fort Lauderdale, so there you have it. The video play list includes the opening credit for the films followed by the studio record release.
Life Is Good In Boca Raton
Hitting the road once again
we jump onto Interstate 95 and head North to Boca Raton, Florida. This dash Cam poster has a funny description under his video:
The worst drivers in America are on this road.

starting out in Broward County at I595 and driving North to Palm Beach County
A quick look about
at Boca Raton is affluent gated suburbs, A hub for business it seems rather lackluster to me, quite frankly. Posh enough I suppose. Here are a couple of Boca Raton videos, one from a local realtor and one a helicopter tour of the city.
Finishing the drive in West Palm Beach
Heading back on the road
we continue north leading us to the end of today's drive, West Palm Beach Florida.
Now that we have arrived in West Palm Beach its about time to call it a day. On our video playlist lets take a spin through Lion Country Safari on the west side of town. After that we will make our way to the beach on the east side, steering clear of trouble along the way. A reminder that Interstate 95 is used my more than just tourists is our second video that talks about the cities Top 6 gang, From there, we take a tour of West Palm Beach in our third video. Our fourth and last video is of the beaches of West Palm Beach which is where we will retire for the day.
Thank you for joining us for this weeks Old Highway Notes. Join us next week as we return to
Route 66
in
Chicago
and continue our blues journey though that city. In two weeks we will be in
San Diego County
on old
Highway 101
. Then just three short weeks from now we return to Florida to continue our trip up
Interstate 95
. Until we meet again, drink plenty of water and use lots of sunscreen,
A Nice View After a Long Drive, West Palm Beach, Florida (Flickr/CC)
Route 66:
0 Miles/1 State/523 Tracks/95 Videos/23 Posts
Highway 101:
13 Miles/1 State/459 Tracks/156 Videos/17 Posts
Interstate 95:
77 Miles/1 State/11 Tracks/40 Videos/6 Posts
If you like what you have read here I'd like to ask you a favor. If you purchase any item on Amazon after you link to them in the little Amazon search window below, I will get a little something from them. It doesn't cost you any extra and I cannot see what you have purchased. With your help, I can keep the show on the road for you.
Thanks!
Another way to support this blog is to drop a little something in my guitar case, you can donate on PayPal:
To read more Old Highway Notes, choose an off ramp and click on the highway sign: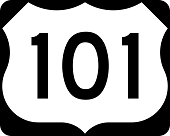 Vista Points-Be social, Get more info, View our YouTube play list



Its not a highway without gift shops. Visit ours-It has new items every week!