Hello and welcome back to Old Highway Notes.
We return this week to
Route 66
and
Chicago
where we have been looking into the
blues music
that was popular in Chicago before electric instruments entered the scene and redefined the sound of the cities blues musicians with a new raucous style of electric blues. We wrap up those early blues years with our last pre-electric blues musician, who also was a key figure in the trademark electric Chicago blues that was to come. His name was Willie Dixon.
Willie Dixon's Childhood
A Detour To Visit Little Brother Montgomery
Willie Dixon was born in 1915 in Vicksburg Mississippi
. The 7th of 14 children, from an early age he was noted to enjoy wordplay and had a gift for rhyming. Those verbal skills would serve him well through his life. Like most kids in the south at that time he heard music from a variety of sources-gospel, blues, country & western that they would sing and imitate like children do. Many sources report that he was particularly drawn to local blues musician Little Brother Montgomery. I was unaware of Little Brother Montgomery's music until I began to research Willie Dixon. His name came up frequently enough that I had to check him out. So lets take a quick detour off of Route 66 to listen to a little of the music of an influencer of an influencer. Archive.Org furnishes us with a set of his music:
Album:
Little Brother Montgomery Collection
Little Brother Montgomery
Brothers Boogie 2:56
Buddy Boldens Blues 4:36
Come On In 3:10
Crescent City Blues 2:39
Doctor Write Me A Prescription For The Blues 4:15
Farish Street Blues 2:32
Farish Street Jive 2:31
Farro Street Jive 2:08
First Time I Met The Blues 2:47
Mama You Don't Mean Me No Good 3:13
Michigan Water Blues 3:37
No Special Rider Blues 4:14
Oh Daddy 3:29
Pleading Blues 3:37
Prisoner Bound Blues 4:23
Riverside Boogie 2:33
Santa Fe 2:40
No Special Rider 2:52
Shreveport Farewell 3:36
Tasty Blues 4:44
Up The Country Blues 4:40
Vicksburg Blues 2:54
I'm glad we took that little detour
and I can see why Willie Dixon liked Montgomery's style. Now back to our story. Life was hard for black families in the rural South, especially in the 1920's whether Ku Klux Klan was at its peak of size and power. Willie began working at age 8 to help support himself and his large family. His poverty caused him to have several scrapes the the law over petty crimes that are so common in poverty stricken areas. When Dixon was 13 he decided to set off on his own to go to Chicago and make his fortune. It was the kind of thing a lot of young teenagers do to test their independence. It would also change his life.
Hopping a freight train
with a friend he was caught and arrested for "hoboing." The crime carried a sentence of six months at the county work farm, Allen Farm. Allen Farm was a notorious work farm that basically treated arrested young black men in the South as virtual slaves. A great article about his arrest can be found
HERE
. As many a blues musician claimed, prison was a were he really picked up a knack for playing the blues, The legend is that he he saw that others were not being released at the end of their time served but were having there times extended for the most minor of infractions so that the county could maintain their pool of labor. According to the story, rather than waiting to have his sentence extended indefinitely, he took advantage of the relatively lax security at the work farm and he managed an escape. After slipping through the woods, and crossing a river to hide his his scent from the hounds, he made his way to the railroad tracks. Willie Dixon finally succeeded in getting aboard that freight car headed for Chicago.
When he arrived in Chicago
, Dixon did not immediately set out pursuing a career in the music business, He began work as boxer. as a big man of over 300 pounds of muscle conditioned by hard work and hard living he achieved some success, He won a Golden Glove award and worked as a sparring partner for Joe Louis. It was to be a short career. After only about 5 pro fights he found that he was being cheated out profits by his manager. A confrontation at the commissioners office led to Dixon losing his cool and threatening violence to his manager. The incident caused him a six month ban from the sport.
Shortly after his boxing incident,
Willie Dixon was drafted to serve in Army. He declared himself a conscientious objector. Perhaps due to his experience as a professional boxer (shades of Mohammad Ali), he was not granted objector status and instead was jailed, After about year he was released and returned to Chicago in 1942 forming a band called the Four Jumps of Jive.
Making Some Good Moves At Chess
In the mid 1940's Willie Dixon began working for Chess Records
. Chess Records is perhaps the most important label in blues music and was highly influential in spreading the sounds of Chicago's blues music to rest of the world. It was at Chess that Dixon would have his greatest impact. In 1952, Muddy Waters (who we will be talking about in future posts) recorded his song "Hoochie Coochie Man". It was a huge seller and made music audience take note of the fresh new sound coming out of Chicago, He would continue to write songs for Chess records artists such as Muddy Waters, Howlin' Wolf, Sonny Boy Williamson II and many more. Many other artist have made recordings of his songs as well. He wrote so many of the standards of the genre that it not a stretch to say that Willie Dixon is the poet-laureate of Chicago Blues. Later, at Chess, he would also compose songs for Chuck Berry, making him a key player in early Rock and Roll history. This list from
Wikipedia
shows exactly how influential and successful he was:



Title
First recorded
by
Year
Subsequently recorded by
"29 Ways"
Willie Dixon
1956
Koko Taylor, Marc Cohn, The Blues Band
"As Long as I Have You"
Little Walter
1960
The Ford Blues Band, John P. Hammond, George Thorogood
"Back Door Man"
Howlin' Wolf
1960
The Doors, Grateful Dead, Shadows of Knight, Bob Weir, The Blues Project, The Blues Band

"The Big Boat"

aka "Somebody Tell that Woman"
Big Three Trio
1955
Peter, Paul and Mary
"Bring It On Home"
Sonny Boy Williamson II
1963
Led Zeppelin, Van Morrison, Dread Zeppelin, Johnny Thunders, Hawkwind, Canned Heat
"Built for Comfort"
Willie Dixon
1959
Howlin' Wolf, Canned Heat, UFO, Juicy Lucy
"Close to You"
Muddy Waters
1958
Stevie Ray Vaughan, The Doors
"Crazy for My Baby"
Willie Dixon
1955
Little Walter, Colin James, Charlie Musselwhite
"Crazy Love"
Buddy Guy
1967


"Crazy Mixed Up World"
Little Walter
1959



"Dead Presidents"

Little Walter
1963
The J. Geils Band
"Diddy Wah Diddy"
Bo Diddley
1955
Captain Beefheart, The Remains, Bruce Springsteen, Tom Petty and the Heartbreakers, The Blues Band
"Do Me Right"
Lowell Fulson
1955
Willie Dixon
"Do the Do"
Howlin' Wolf
1962
Top Jimmy & The Rhythm Pigs
"Don't Go No Further"
Muddy Waters
1956
The Doors, B.B. King, John P. Hammond
"Don't You Tell Me Nothin'"
Willie Dixon
1986
used in the film The Color of Money
"Down in the Bottom"
Howlin' Wolf
1961
Bill Wyman's Rhythm Kings, John P. Hammond, Siegel-Schwall Band, Barry McGuire

"Eternity"

Grateful Dead
1992


"Everything but You"
Jimmy Witherspoon
1959


"Evil"
Howlin' Wolf
1954
Canned Heat, Captain Beefheart, Monster Magnet, Luther Allison, Derek and the Dominos, Gary Moore, Cactus, The Faces, Steve Miller, Koko Taylor, Jeff Healy

"Groanin' the Blues"

Otis Rush
1957
Eric Clapton
"Help Me"
Sonny Boy Williamson II
1963
Ten Years After, Charlie Musselwhite, Canned Heat, Junior Wells, Luther Allison, Johnny Winter
"Hidden Charms"
Charles Clark
1958
Howlin' Wolf, Link Wray, Elvis Costello
"Hoochie Coochie Man"
Muddy Waters
1954
Willie Dixon, Shadows of Knight, Eric Burdon, The Nashville Teens, Dion, The Allman Brothers Band, Alexis Korner, Steppenwolf, Chuck Berry, Motörhead, Eric Clapton, John P. Hammond, Jimi Hendrix, Jeff Healey, Manfred Mann, New York Dolls, Dave van Ronk, Phish
"Howlin' for My Baby"
Howlin' Wolf
1959
George Thorogood
"I Ain't Superstitious"
Howlin' Wolf
1961
The Jeff Beck Group, Grateful Dead, Megadeth, Chris Spedding, The White Stripes, The Yardbirds
"I Can't Quit You Baby"
Otis Rush
1956
Little Milton, Willie Dixon, John Mayall & the Bluesbreakers, Led Zeppelin, Gary Moore, Dread Zeppelin, Nine Below Zero
"I Can't Understand" (co-written with Cesar Rojas)
Los Lobos
1990


"I Don't Play"
Little Walter
1960
Robben Ford
"I Got My Brand on You"
Muddy Waters
1960
Alexis Korner
"I Got What It Takes"
Koko Taylor
1964


"I Just Want to Make Love to You"
Muddy Waters
1954
Willie Dixon, The Animals, The Kinks, The Yardbirds, Shadows of Knight, Mungo Jerry, Grateful Dead, Foghat, The Rolling Stones, Etta James, Van Morrison, Paul Rodgers, Tom Petty and the Heartbreakers, April Wine, Robben Ford, Meat Puppets, Cold Blood, The Sensational Alex Harvey Band, The Righteous Brothers, Johnny Kidd & The Pirates, Chuck Berry, Sam Cooke
"I Love the Life I Live, I Live the Life I Love"
Muddy Waters
1956
Willie Nelson, John P. Hammond, Mose Allison
"I Want to Be Loved"
Muddy Waters
1955
The Rolling Stones
"I'm a Natural Born Lover"
Muddy Waters
1954


"I'm Ready"
Muddy Waters
1954
Humble Pie, Buddy Guy, Aerosmith, Long John Baldry, Eric Burdon, George Thorogood, Albert King, John P. Hammond, Carey Bell, The Blues Band
"If the Sea Was Whiskey"
Big Three Trio
1947
Chris Thile and the How to Grow a Band
"Insane Asylum"
Koko Taylor
1968
Kathi McDonald & Sly Stone, Diamanda Galás, Asylum Street Spankers, The Detroit Cobras, Oxbow & Marianne Faithfull
"It Don't Make Sense (You Can't Make Peace)"
Willie Dixon
1984
Styx
"Let Me Love You Baby"
Buddy Guy
1961
Koko Taylor, Stevie Ray Vaughan, Jeff Beck, Muddy Waters, B.B. King
"Little Baby"
Howlin' Wolf
1961
The Rolling Stones, The Blues Project
"Little Red Rooster"
Howlin' Wolf
1961
Sam Cooke, The Rolling Stones, Grateful Dead, The Doors, Luther Allison, The Jesus and Mary Chain, Big Mama Thornton, Tom Petty and the Heartbreakers
"Mellow Down Easy"
Little Walter
1954
Cactus, Paul Butterfield, The Black Crowes, Carey Bell, ZZ Top, Jimmy Reed, Holly Golightly, John P. Hammond
"Mighty Earthquake and Hurricane" aka "Earthquake and Hurricane"
Willie Dixon
1978
Tina Turner
"Move Me"
Willie Dixon
1959


"My Babe"
Little Walter
1955
Sonny Boy Williamson, Elvis Presley, The Everly Brothers, Lonnie Mack, Spencer Davis Group, John P. Hammond, Bo Diddley, Muddy Waters, The Remains, Othar Turner, James Cotton, Bo Diddley
"My Baby's Sweeter"
Little Walter
1959
Fleetwood Mac
"My Love Will Never Die"
Big Three Trio
1952
Otis Rush, Magic Sam, Robben Ford
"Nervous"
Willie Dixon
1959
Andre van Duin
"Oh Baby"
Little Walter
1954


"Pain in My Heart"
Willie Dixon
1955


"Pretty Thing"
Bo Diddley
1956
Pretty Things, Canned Heat

"The Same Thing"

Muddy Waters
1964
Willie Dixon, George Thorogood, The Allman Brothers Band, Sue Foley, Marc Ford, Grateful Dead, The Band, Louisiana Red
"The Seventh Son"
Willie Mabon
1956
Mose Allison, Bill Haley, Johnny Rivers, Sting, Climax Blues Band, Long John Baldry, Remo Four, Georgie Fame, John P. Hammond
"Shake for Me"
Howling Wolf
1961
Stevie Ray Vaughan, John P. Hammond
"Sittin' and Cryin' the Blues" aka "Sit and Cry (The Blues)"
Buddy Guy
1958
Willie Dixon
"Spider in My Stew"
Buster Benton
1974
Magic Slim
"Spoonful"
Howlin' Wolf
1960
Muddy Waters, Bo Diddley, Shadows of Knight, Dion, Paul Butterfield, Cream, Canned Heat, Grateful Dead, Ten Years After, The Who, Etta James, Salty Dog, Delbert McClinton, Allman Joys
"Study War No More"
Willie Dixon
1989


"Talk to Me Baby" aka "I Can't Hold Out"
Elmore James
1960
Fleetwood Mac, Eric Clapton
"Third Degree"
Eddie Boyd
1953
Willie Dixon, Eric Clapton, Leslie West
"Three Hundred Pounds of Joy"
Howlin' Wolf
1963
Tom Jones & Jools Holland, Blues Brothers
"Tollin' Bells"
Lowell Fulson
1956
Savoy Brown, Robert Cray, Paul Butterfield, Robert Cray
"Too Late"
Little Walter
1953
Little Milton
"Too Many Cooks"
Jessie Fortune
1961
Buddy Guy, Robert Cray, Mick Jagger
"Violent Love"
Big Three Trio
1951
Otis Rush, Oingo Boingo, Dr. Feelgood, Skankin' Pickle
"Wang Dang Doodle"
Howlin' Wolf
1960
Koko Taylor, Grateful Dead, Savoy Brown, Box Tops, PJ Harvey, Rufus Thomas, The Pointer Sisters, The Blues Band, Widespread Panic, Warren Zevon, Dave Edmunds
"Weak Brain, Narrow Mind"
Willie Dixon
1964
Widespread Panic
"When My Left Eye Jumps"
Buddy Guy
1967


"When the Lights Go Out"
Jimmy Witherspoon
1954
Kim Wilson
"You Can't Judge a Book by the Cover"
Bo Diddley
1962
Shadows of Knight, Cactus, The Yardbirds, Beat Farmers, The Fabulous Thunderbirds, Tim Hardin, The Merseybeats, Elliott Murphy, Long John Baldry, The Monkees, Eric Clapton, Roy Buchanan, Tom Rush, The Rolling Stones, John P. Hammond, Dion Dimucci
"You Know My Love"
Otis Rush
1960
Gary Moore, Anson Funderburgh
"You Need Love"[3]
Muddy Waters
1962
Candye Kane, Savoy Brown
"You Shook Me"
Muddy Waters
1962
Willie Dixon, Jeff Beck Group, Led Zeppelin, Dread Zeppelin
"You'll Be Mine"
Howlin' Wolf
1961
Stevie Ray Vaughan, Dr. Feelgood, John P. Hammond
"Young Fashioned Ways"
Muddy Waters
1955
Koko Taylor
As so often was (and is) the case
, record companies often do not compensate nearly in relation to the importance of the artists they record. Willie Dixon was often played a flat rate, but even when he had royalties due they would not necessarily come without a fight. In the mid 70's his publisher Arc Records sued Led Zeppelin over they used "Bring It On Home" on their second album without paying royalties. Dixon then was forced to sue Arc Records before they gave him his share. Later he would successfully sue Led Zeppelin for songwriter credit and royalties based on similarities of his Muddy Waters song "You Need Love" to Led Zeppelins wildly successful "Whole Lotta Love". It was one of Led Zeppelin was numerous times charged with plagiarism as this clip illustrates:
After having so many problems with royalties
in his own life he started the Blue Heaven Foundation in 1982 to assist musicians in obtaining their financial rights. Willie Dixon died in 1992 in Burbank California. His recent awards include:
1984: Inducted into the Blues Hall of Fame
1988: Grammy for album "Human Touch"
1998:Grammy Hall of Fame Award
2004:Listed in Rock and Roll Hall of Fame's 500 Songs That Shaped Rock and Roll
2011:Voted number 225 by representatives of the music industry and press as part of Rolling Stone magazine's list of the 500 Greatest Songs of All Time
Playlist Notes
Willie Dixon wrote the backbone of my blues music collection
, but he really does not have a strong presence as a performer in my collection. I will have to work on that shortcoming. In fact, I am embarrassed to say I could only find three tracks of his to add to our playlist this week. They are:
Thanks for joining us for this weeks Old Highway Notes
. Join us next week as we return to
National City
,
San Diego County
, California on the old
Highway 101
. In Two weeks we will be back in
Miami
on
Interstate 95
. Just 3 weeks from now we return to
Chicago
to continue to explore that cities blues music. Is just about time to plug things in get electric. Until then, "we gonna pitch a wang dang doodle, all night long!"

Route 66: 0 Miles/1 State/523 Tracks/95 Videos/23 Posts
Highway 101: 13 Miles/1 State/433 Tracks/129 Videos/16 Posts
Interstate 95: 0 Miles/1 State/10 Tracks/23 Videos/5 Posts
If you like what you have read here I'd like to ask you a favor. If you purchase any item on Amazon after you link to them in the little Amazon search window below, I will get a little something from them. It doesn't cost you any extra and I cannot see what you have purchased. With your help, I can keep the show on the road for you.
Thanks!
Another way to support this blog is to drop a little something in my guitar case, you can donate on PayPal:
To read more Old Highway Notes, choose an off ramp and click on the highway sign: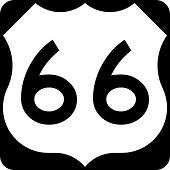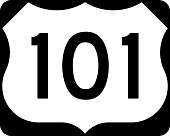 Vista Points-Be social, Get more info, View our YouTube playlist


Its not a highway without gift shops. Visit ours-It has new items every week!