Elwood: It's 106 miles to Chicago, we got a full tank of gas, half a pack of cigarettes, it's dark... and we're wearing sunglasses.
Jake: Hit it.
Part 1 Of A Series Of 4
The Blues Brothers:
T

he history

of movies has quite a few contenders for "best car chase". Since we are in Chicago, Illinois at the start of Route 66,, I'm reminded of my favorite car chase. That would be the over the top destructive chase through the streets of Chicago and its neighboring communities in the 1980 film The Blues Brothers. We'll talk about that film later, but the story of the Blues Brothers began long before the movie was filmed.



In 1971

a 22 year old John Belushi had made the leap from his college improv group to join Chicago's famed Second City comedy troupe. This rare footage from 1972 shows a very young John Belushi in action. The tape begins very roughly but by about the three minute mark the sound improves.






Belushi

was a success with the Second City. In 1973 he began to work with National Lampoon Searching for talent for the new National Lampoon Radio Hour and a Lampoon road show, he visited Toronto, who also had a Second City sketch comedy club.

One of the Canadian comics he had come to see was 20 year old Dan Aykroyd who had been making a name for his impersonations. Aykroyd had also heard about Belushi's success in Chicago and following a performance at the Toronto club they were introduced to one another backstage.

A deep friendship began to take hold quickly. Going out for drinks, Aykroyd invited Belushi to the unlicensed speakeasy he had been managing after hours called the 505 Club. As they talked, blues music was playing in the background. John was intrigued but did not know very much about blues music, having been more of a fan of heavy metal rock like Cream and Deep Purple.

Dan Aykroyd was a blues fan, as well as an outlaw spirit in general. He had a encyclopedic knowledge of the blues and running an illegal speakeasy certainly gave him outlaw cred.He took Belushi's interest and began sharing with him his favorites blues music. At one point, they were listening to an album by John Lee Hooker. He was decked out in sunglasses and a hat. Belushi joked that if they ever started a blues band that would have to be their look.

When Saturday Night Live was being cast Belushi encouraged Aykroyd to audition. The pair would be key parts of the original Not Ready For Prime Time Players. The show debuted in late 1977 and was an immediate smash and required viewing for 1970's hipsters. It was original only to intended to be a six episode series featuring young comics. Due to its popularity, its run was extended and is still going strong today, 47 years later.



At the same

time that Saturday Night Live was being created, Belushi was dipping his toes into the world of feature films.First he had a part in a Jack Nicholson film Goin' South. He used that role to gain experience for another film he would make in early 1978. It was National Lampoon's first feature film so naturally Belushi, a key early Lampoon member, was included in the cast.



The movie,

which turned out to be a massive hit comedy. was Animal House. Directed by John Landis, the film was a spirited tale of college fraternity life in the 1960's, Belushi playing the degenerate slob fraternity member Bluto Blutarski. While the movie being was filmed with Eugene and the University of Oregon playing the role of the films Ivy League Faber College, Portland blues star Curtis Salgado worked on the production and met Belushi. When Belushi expressed an interest in blues music, Salgado took it as an opportunity to teach the comedian how to sing blues music, teaching him a ton of classic blues music.



Belushi and Aykroyd

assembled a look derived from that John Lee Hooker album cover. They appeared as the Blues Brothers in front of Willie Nelsons Band and Roomful Of Blues at the Lone Star Cafe in Texas, The duo had a dress code that would become a trademark. Wearing black hats and Wayfarer sunglasses in tribute to John Lee Hooker. They wore Men In Black suits because, Aykroyd reasoned, blues players were still considered outlaw in the 1940's and 1950's and a suit would help to blend in with straight society,



A back story

was created that these were not actual brothers but were both orphans who were raised in an orphanage. Taught to love the the blues by the orphanage janitor, at one point they cut their fingers with guitar strings. Rubbing the cuts together they became blood brothers and living the lives of drifting blues men from Chicago, the Blues Brothers.



In addition

to their matching CIA man suits the Blues Brothers had worked up a classic stage revue. With stage voice over introductions reminiscent of James Brown, they would erupt in quick burst of high stepping or choreographed dance moves including Belushi's well known cartwheel. Musically they had an upbeat jump blues sound. Belushi generally sand lead which Aykroyd complimented with his bass background singing or his wailing on the harmonica.



They were

as much a visual show as a musical one. Belushi as Jake Blues would be the emotional side of the duo sweating and dancing and contorting his face as he belted out his vocals. Aykroyd as Elwood Blues was a perfect counterpoint, When not in a choreographed dance step he would be a deadpan emotionless performer that could wring a lot of sound out of a harmonica. They were fun to watch, but they really could play the blues.



Near the end

of the first season of Saturday Night Live, in 1978, Belushi suggested to the shows producer, Lorne Michaels, that the Blues Brothers should perform a number on the show, Michaels was skeptical, but Belushi stardom, as well as his key role in recruiting much of the shows cast, gave him some privileges. Michaels allowed the to play song as the credits scrolled by. But he wanted them to dress as bees and perform the song King Bee as Howard Shore and his All-Bee Band, which they did with the Saturday Night Live band,





Belushi and Aykroyd

realized that if they wanted the show to take their music seriously, that they would have to create a band, and come on the show as a musical guest. At the suggestion of Paul Schaffer they pulled together an all star band of blues session men, SNL band members, saxophonist "Blue" Lou Marini and trombonist-saxophonist Tom Malone, who had previously played in Blood, Sweat & Tears. Guitarist Steve Cropper and bassist Donald "Duck" Dunn, the powerhouse combo from Booker T and the M.G.'s were also recruited. On trumpet they brought in Alan Rubin as well as guitarist Matt Murphy. It was a stacked combo.

Briefcase Full Of Blues-The Blues Brothers

(source Wikipedia)

The group

began touring around the country mostly playing colleges with a fair amount of success. A recording of their set, opening for Steve Martin at the Universal Amphitheater, was released as Briefcase Full of Blues. It was the same time that Animal House was filling up theaters, Belushi was red hot and Aykroyd was along for the ride. The album shot to the top the Billboard Hot 200 with the songs Soul Man and Rubber Biscuit rising onto the top 40 singles charts. The duo finally got to make that appearance on Saturday Night Live as a band late in 1998.





Riding the wave

of success, the Blues Brothers were notably asked to open for the Grateful Dead at an emotional performance in the Dead's career. The Winterland Ballroom had been a home turf concert hall for the Grateful Dead for many years and it was closing. On the last show, New Years Eve 1978, Jake and Elwood Blues would get the crowd moving before the Grateful Dead took the stage for a farewell concert still prized by Deadheads.





With 1979

, our story is about to catch up with that car chase I mentioned as we began. But that will be in our next episode in three weeks,




This week

I have to begin by saying Briefcase Full Of Blues is sorely lacking from my collection. Getting a copy is on my to do list as budget allows (tip: to help the cause visit my amazon store). Look for it in my year end wrap up for 2015.Until then, I was happy to find that Blues Brothers Central.com has a bootleg of the New Years Eve show available for mp3 download, You can get it HERE

Album: Live On New Year's Eve The Blues Brothers


Intro 1:34
Hey Bartender 3:18
Messin' With the Kid 3:33
Almost (I Got Everything I Need) 2:47
Band Introduction 1:07
Rubber Biscuit 3:18
Shotgun Blues 5:44
Groove Me 3:51
I Don't Know 5:07
Band Introduction 2 0:53
Soul Man 3:04
Band Introduction 3 0:48
B Movie Boxcar Blues 4:44
Flip, Flop, Fly 4:01
Jailhouse Rock 5:01
Outro 1:21
Signing Off & Coming Attractions
The Blues Brothers
could sing, and their stage show was pretty entertaining. But then again Belushi and Aykroyd were both pretty funny guys. Do you have a favorite character from either of them? I'd love to hear about in the comments.
Next Week
:
San Diego
's
Old Town
has many buildings from the civic institutions in the early days of San Diego,
California
.We will explore as we continue our stop on old Highway 101.
Route 66:
0 Miles/1 State/1001 Tracks/270 Videos/40 Posts
Highway 101:
22 Miles/2 Countries/1 State/594 Tracks/301 Videos/28 Posts
Interstate 95:
123 Miles/1 State/87 Tracks/139 Videos/14 Posts
To get more Old Highway Notes by email, enter your email address:
If you like what you have read here I'd like to ask you a favor.

If you purchase any item on Amazon after you link to them in the little Amazon search window below, I will get a little something from them. It doesn't cost you any extra and I cannot see what you have purchased. With your help, I can keep the show on the road for you.
Thanks!
To read more Old Highway Notes,
choose an off ramp and click on the highway sign: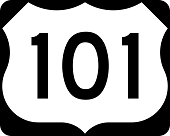 Vista Points

-Be social, Get more info, View our YouTube playlist
Visit our Gift Shop

-It has new items every week!