Elwood Blues: The Lord works in mysterious ways.
Part 1 Of A Series Of 4
The Blues Brothers:
The 1990's
ended with a slew of revival films bringing back and rebooting classic TV shows. John Landis hopped on the bandwagon. He wrote a script for an updated
Blues Brothers
movie.
Dan Aykroyd
was still available to act in the character of Elwood Blues. There was no way to bring back Jake Blues, John Belushi was a hard act to follow!
Landis
wrote three characters to replace one Blues Brother: a ten year old kid, a bartender and the first black Blues Brother.
From Wikipedia
we have a plot summary:
The story picks up 18 years later with Elwood being released from prison, and learning that his brother, Jake Blues, has died. He is once again prevailed upon to save some orphans, and with a 10-year-old boy named Buster Blues (J. Evan Bonifant) in tow, Elwood again sets about the task of reuniting his band. He recruits some new singers, Mighty Mack (John Goodman) and Cab (Joe Morton), a policeman who was Curtis' son. All the original band members are found, as well as some performers from the first film, including Aretha Franklin and James Brown. There are dozens of other guest performers, including Eric Clapton, Steve Winwood, Junior Wells, Lonnie Brooks, Macaulay Culkin, Eddie Floyd, Wilson Pickett, Isaac Hayes, Sam Moore, Taj Mahal and Jonny Lang, Blues Traveler, as well as an all-star supergroup led by B. B. King called the Louisiana Gator Boys. On the run from the police, Russian mafia and a racist militia, the band eventually ends up in Louisiana, where they enter a battle of the bands overseen by a voodoo practitioner named Queen Moussette (Erykah Badu). During a song by the Blues Brothers (a Caribbean number called "Funky Nassau"), a character played by Paul Shaffer asks to cut in on keyboards, which Murph allows. This marks the first time in a film that the Blues Brothers play with their original keyboardist.
Like the original
Blues Brothers film, this is a hard film to categorize. Not because of the genre busting combination of being a musical, an action film, and a comedy, rather because it was billed as a sequel but it was more of a remake.
The whole movie
was filled with excess. It took what worked from the original film and tried to raise the stakes.In stead of two Blues Brothers, there were now four. Instead of a chase across Illinois It was a chase all the way to New Orleans. Instead of Illinois Nazis, We get Russian Mafia oh and the KKK too, because why not?
If a joke
was funny once in the original movie, it was basically remade in this movie. Only usually on a larger scale. Because the jokes weren't fresh, they weren't funny. And some things like, Aykroyd's famous skidding parking job were repeated as a running joke. The problem was, it just wasn't funny.
They introduced
a cute kid into the mix, apparently to make the film appeal to a family market (?), yet the subplot of the Russian Mafia involved the long scenes inside a strip club. Kind of strange. Overall the movie is a bit of a wreck.
Still,
the film is watchable, and that is mostly due to the excess that continued into the number of musical greats that were recruited to appear in the movie. This list from
Wikipedia
shows the amazing number of legendary blues performers showcased in the film:
The Blues Brothers Band




Dan Aykroyd as Elwood J. Blues – harmonica and vocals
John Goodman as "Mighty" Mack McTeer – lead vocals
Joe Morton as Cabel "Cab" Chamberlain – vocals
J. Evan Bonifant as Buster Blues – vocals and harmonica (harmonica recorded by John Popper)
Steve Cropper as Steve "the Colonel" Cropper – rhythm guitar and vocals
Donald "Duck" Dunn as Donald "Duck" Dunn – bass guitar
Murphy Dunne as Murphy "Murph" Dunne – keyboards
Willie Hall as Willie "Too Big" Hall – drums and percussion
Tom Malone as Tom "Bones" Malone – trombone, tenor saxophone and vocals
Lou Marini as "Blue Lou" Marini – alto saxophone and tenor saxophone and vocals
Matt Murphy as Matt "Guitar" Murphy – lead guitar
Alan Rubin as Alan "Mr. Fabulous" Rubin – trumpet, percussion and vocals




Musical guests




Junior Wells as Himself
Lonnie Brooks as Himself
Blues Traveler as Themselves
Jonny Lang as Janitor
Eddie Floyd as Ed
Wilson Pickett as Mr. Pickett
Aretha Franklin as Mrs. Murphy
Esther Ridgeway as Mrs. Murphy's Friend
Gloria Ridgeway as Mrs. Murphy's Friend
Gracie Ridgeway as Mrs. Murphy's Friend
Sam Moore as Reverend Morris
James Brown as Reverend Cleophus James
Erykah Badu as Queen Mousette

The Louisiana Gator Boys
The Louisiana Gator Boys is a blues supergroup created for Blues Brothers 2000. They face The Blues Brothers in a battle of the bands. The band comprises:
B. B. King as Malvern Gasperone – Vocals and guitar
Jeff "Skunk" Baxter – guitar
Gary U.S. Bonds – vocals
Eric Clapton – vocals and guitar
Clarence Clemons – vocals, tenor saxophone and tambourine
Jack DeJohnette – drums
Bo Diddley – vocals and guitar
Jon Faddis – trumpet
Isaac Hayes – vocals
Dr. John – vocals and piano
Tommy "Pipes" McDonnell – vocals
Charlie Musselwhite – vocals and harmonica
Billy Preston – vocals and synthesizer
Lou Rawls – vocals
Joshua Redman – tenor saxophone
Koko Taylor – vocals
Travis Tritt – vocals and guitar
Jimmie Vaughan – vocals and guitar
Grover Washington, Jr. – baritone saxophone
Willie Weeks – bass guitar
Steve Winwood – vocals and organ
Paul Shaffer as Marco/Himself – keyboards
The music
in movie saves some heavy handed production decisions and frankly lazy script writing.
IMDB
gives it 4.8 stars and generally it was panned by critics and fans, the
Rotten Tomatoes
audience score only being 38% thumbs up at the time of this Old Highway Note,
A Nintendo 64
game was released in conjunction with the movie. It wasn't very popular either as the title of this YouTube Video attests, "Worst Game Ever".
It's a crying shame,
but the truth is I have not gotten around to adding the Blues Brothers 2000 Soundtrack to my music collection, so officially it can't be added to the playlist. Regardless of that technicality a look at the movie requires a listen to
it's music.
So here is as complete a playlist as possible using YouTube videos.
I do have
a legitimate addition to the playlist to make though. When the movie was released a live album was also released and that DID make its way into my collection. It is a strong set of the Blues Brothers from that era.
Album:
Blues Brothers & Friends: Live From Chicago' House Of Blues
Blues Brothers & Friends
Intro 3:18
Green Onions 2:49
Chicken Shack 0:52
Sweet Home Chicago 2:42
I Wish You Would 4:23
Messin' With The Kid 4:17
All My Money Back 3:22
Born In Chicago 2:09
Blues, Why You Worry Me? 4:47
Groove With Me Tonight 4:14
634-5789 5:38
All She Wants To Do Is Rock 2:34
Flip, Flop And Fly 3:15
Money (That's What I Want) 3:29
Viva Las Vegas 3:58
Signing Off And Coming Attractions
Have you
have seen Blues Brothers 2000? I would love to hear your opinion of the film. Just leave a comment at the bottom of the post where you are given that option. Also I would love it if you subscribed and told your friends about Old Highway Notes. Your positive feedback is what keeps me going. I am not making any money of this project, you know.
Route 66:
0 Miles/1 State/1071 Tracks/268 Videos/41 Posts
Highway 101:
26 Miles/2 Countries/1 State/641 Tracks/407 Videos/31 Posts
Interstate 95:
143 Miles/1 State/96 Tracks/156 Videos/16 Posts
Don't Miss Out On an Old Highway Note. Subscribe Now! It is free and new notes will be emailed to you auto-magically!
To subscribe to Old Highway Notes by email, enter your email address:
Delivered by
FeedBurner
And Now A Word From Our Sponsor...
If you like what you have read here I'd like to ask you a favor.

If you purchase any item on Amazon after you link to them in the little Amazon search window below, I will get a little something from them. It doesn't cost you any extra and I cannot see what you have purchased. With your help, I can keep the show on the road for you.
Thanks!
To read more Old Highway Notes,
choose an off ramp and click on the highway sign: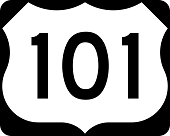 Be social, Get more info, View our YouTube playlist
It has new items every week themed to that weeks post!