Hello and welcome back
to Old Highway Notes. The last time we were on Route 66 in Chicago we were looking into the early years of legendary blues artist Muddy Waters. After a string of successful single in the fifties, blues music was marking a turning point and, as usual Muddy Waters was right in the middle of things.
In the early 1960's
, blues music was on a bit of downturn in popularity among blacks. New soul sounds were gaining popularity and albums were overtaking singles in demand. Chess decided to turn their attention to a more album oriented focus. Naturally, that meant that star artists such as Muddy Waters would begin releasing albums regularly.
Our last post discussed
the success of Muddy Waters' third album
Live At Newport 1960
. (His first two albums were a greatest hits package and a tribute to Big Bill Broonzy.) Leonard Chess wanted to address another threat to blues and rock and roll record sales. The college kids were in a fever of folk music during the early 1960's. Chess figured that if Muddy Waters would do an album, of acoustic songs, the album could be promoted as a folk album to the folk rabid students.
In 1964, Muddy Waters released
the acoustic album Leonard Chess wanted. The album, his fourth, was
Folk Singer
. Recorded in the Tel Mar Recording Studios in Chicago, Illinois on September 1963,
Folk Singer
was produced by Willie Dixon. Though it did not chart, the album enjoyed stellar production and has long been a critical favorite.
It is the first addition to this weeks playlist.
Album:
The Folk Singer
Muddy Waters
My Home Is In The Delta 4:02
Long Distance Call 3:34
My Captain 5:14
Good Morning Little School Girl 3:16
You Gonna Need My Help 3:13
Cold Weather Blues 4:44
Big Leg Woman 3:30
Country Boy 3:30
Feel Like Going Home 3:56
The Same Thing (Bonus Track) 2:47
You Can't Lose What You Never Had (Bonus Track) 3:00
My John The Conqueror Root (Bonus Track) 2:23
Short Dress Woman (Bonus Track) 2:50
Put Me In Your Lay Away (Bonus Track) 2:58
1965 saw Chess roll out another
greatest hits album of sorts. With
The Real Folk Blues
, Chess plundered Muddy Waters' pre chess Aristocrat Records singles as well as the some early Chess releases for this collection again stressing the "folky-ness" of Muddy Waters' early recordings. It would be the first of a series.
Album:
Real Folk Blues / More Real Folk Blues
Muddy Waters
Mannish Boy 2:59
Screamin' And Cryin' 3:10
Just To Be With You 3:19
Walking In The Park 2:46
Walking Blues 3:00
Canary Bird 2:47
Same Thing 2:45
Gypsy Woman 2:38
Rollin' & Tumblin' 3:03
40 Days And Forty Nights 2:56
Little Geneva 2:52
You Can't Lose What You Never Had 2:55
The research I did on Muddy Waters
discography proved to be challenging. Many different sites have similar lists of releases with more or less completeness and none of them seem to have everything. I guess with as many albums as the man released on so many labels over the coarse of so many years there is bound to be some confusion. And that doesn't even touch the subject of reissue collections of which there are a never ending stream. I point this out as a way of apology to anyone who has more complete knowledge of Muddy Waters releases. Back to our story.
In 1966, the recordings by Alan Lomax
from 1941 & 1942 in Mississippi were finally released to the public as a double album,
Down On Stovall's Plantation
which we included in our
last post
discussing that era of Muddy's life.
1967 saw the release of another attempt
by Chess to achieve crossover success.
Muddy, Brass and the Blues
, in a departure from his usual style Muddy Waters is joined by the unusual (to his band) addition of a brass section. Muddy's guitar is stripped away leaving him performing as a vocalist with guitar work in his band by Sammy Lawhorn and Pee Wee Madison. The result was a sound that was a bit more swinging and poppy most of his albums. I have seen it compared to B.B. Kings style. Releases of the album have the dubbed in horns stripped out, but I am lucky enough to have the original version with all of it semi cheesy horn goodness. It is the next album to make the list. Being an unusual album and not in his classic style I could not find any videos of it floating around to share.
Album:
Muddy Brass & the Blues
Muddy Waters
Corine, Corina 3:44
Piney Brown Blues 3:17
Black Night 3:23
Trouble in Mind 2:59
Going Back to Memphis 2:44
Betty and Dupree 3:06
Sweet Little Angel 3:34
Take my Advice 2:57
Trouble 2:28
Hard Loser 3:08
When Chess Records did not score
a hit with a brass oriented B.B. King inspired sound for Muddy Waters They tried for an easy payday More Real Folk Blues further plundering the old Aristocrat/Chess vaults of Muddy's early hits with a sequel album:
More Real Folk Blues.
It was the late sixties
in the era of free love, free dope, and psychedelic rock. Once again Leonard Chess tried to recreate the cross over success of
Live In Newport 1960.
Why not an album of Muddy Waters jamming with some hippy guys and making some cosmic blues? So They did it and called it
Electric Mud
. as a fan of both Muddy Waters and Late 1960's acid rock, I appreciate the album, and it has a cult following possibly most notably including Jack White. Critics didn't like it and most blues purists consider it a travesty against the blues. Indeed, Muddy Waters did not seem to be very proud of it and is rumored to have called it the one album he regretted recording. None the less it sold fairly respectably with claimed sales of between 150, 000 & 200,000 Here is a YouTube of the album, you make the call.
After the disaster that was Electric Mud
at least as far as Muddy Waters was concerned, it was time to get back to his roots. The 1969 album,
After The Rain
was a set of classic Muddy Waters hits recorded in his current style with modern equipment. A tasty addition to his discography, but nothing groundbreaking.
Purging himself with that classic set
, Muddy Waters next recorded an unusual all-star collaboration. Again he would make a jam album of sorts with some "hippy kids". This time, he used guys that had playing some tasty blues themselves. The collaborators were Paul Butterfield, Mike Bloomfield, Buddy Miles, Donald "Duck" Dunn of Booker T. & the M.G.'s and Sam Lay. Perhaps Muddy Waters had re found his confidence. Perhaps the fact that hippy music was mellowing out in general. Maybe it was the fact that the kids he was playing with played the blues and not distorted rock and roll. Whatever the reason, the album
Fathers and Sons
worked. It reached #70 on the Billboard charts, his most successful album. A 2 disc set it featured a studio disc and then a live disc The.
AllMusic
review says:
Fathers and Sons displays the love that these musicians shared for the blues and the care they put into getting that feeling down on tape. Standout cuts include "Can't Lose What You Ain't Never Had," "I'm Ready," and "Standing 'Round Cryin'," which Eric Clapton covered in 1994. The live concert is loose and funky with everyone getting in their licks, especially Muddy Waters, who shines throughout. A fine touchstone for anyone looking into Chicago blues and generally good music.
Album:
Fathers And Sons
Muddy Waters
with Otis Spann, Mike Bloomfield, Buddy Miles, and Paul Butterfield
All Aboard 2:53
Mean Disposition 5:43
Blow Wind Blow 3:42
Can´t Lose What You Ain´t Never Had 3:07
Walkin´ Thru The Park 3:22
Forty Days And Forty Nights 3:09
Standin´ Round Cryin´ 4:06
I´m Ready 3:39
Twenty Four Hours 4:49
Sugar Sweet 2:19
Long Distance Call 6:39
Baby Please Don´t Go 3:05
Honey Bee 3:58
The Same Thing 6:05
Got My Mojo Working, Part One 3:27
Got My Mojo Working, Part Two 5:12
Live The Life I Love 2:49
Muddy Waters ended the 1960's on a high note
with the most successful album of his career. We will end this blog post on that note as well. In just three short weeks we will be back to continue to follow the career of a legendary man of the blues and one of the most famous Chicagoans of all time: Muddy Waters. But before that, we will be returning to San Diego as we explore the original Highway 101. Then, in two weeks, we back in Florida to continue our look into Spring Training Baseball in the state. I hope you can join us. Until we meet again, live the life you love.

Route 66: 0 Miles/1 State/602 Tracks/126 Videos/25 Posts
Highway 101: 13 Miles/1 State/484 Tracks/161 Videos/18 Posts
Interstate 95: 77 Miles/1 State/11 Tracks/46 Videos/7 Posts
If you like what you have read here I'd like to ask you a favor. If you purchase any item on Amazon after you link to them in the little Amazon search window below, I will get a little something from them. It doesn't cost you any extra and I cannot see what you have purchased. With your help, I can keep the show on the road for you.
Thanks!
Another way to support this blog is to drop a little something in my guitar case, you can donate on PayPal:
To read more Old Highway Notes, choose an off ramp and click on the highway sign: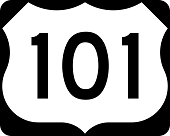 Vista Points-Be social, Get more info, View our YouTube playlist



Its not a highway without gift shops. Visit ours-It has new items every week!