It was 1981
in Chicago.
Muddy Waters
health had been keeping him more down than up. His latest release was a troubled and botched up affair that he wasn't happy with.
With The Rolling Stones At The Checkerboard Lounge
Muddy Waters'
old band mate, the much younger Buddy Guy was riding a wave of success not a little fueled by the fact that he was a main source of inspiration for Stevie Ray Vaughn, who was taking the music world by storm at the time Buddy Guy also was the part owner of a blues club on the South side of Chicago called the Checkerboard Lounge.
Rock fans
in Chicago were excited to be welcoming the Rolling Stones to town that November as they came through promoting their
Tattoo You
album. The Rolling Stones took their name from a Muddy Waters song and wanted to see some live blues in Chicago.
The date was November 22, 1981.
What happened next is a bit unclear and lost in the fog of music rumor. The visit was played up to be a spontaneous event but plenty of evidence points to the contrary Not the least of which is why would their be camera equipment set up at the club if it was just another ordinary night, seems unlikely.
It was not a spontaneous visit
according to the
Chicago Sun-Times
. L.C. Thurman, Buddy Guys partner in ownership for the Checkerboard explains,
"I had a birthday party planned for my barmaid Aretta that Sunday night," Thurman said last week while sipping a soft drink at the bar of the New Checkerboard. "On Saturday the Stones sent somebody to check out the place. I said, 'I got a big party, I can't treat my barmaid like that.' He offered me $500. At that time it was good money. They didn't charge anyone to get in."
The Stones, who were playing the Rosemont Horizon as part of their "Tattoo You" tour, announced Muddy Waters as the night's headliner. He was not scheduled to play the club.
"The word got out," Thurman said. "I had to take the phone off the hook. Buddy had been out of town, but he came back that Sunday. He got them all on stage together: Junior, Lefty [Dizz, a Checkerboard regular]. They had to block the streets off. The police told me not to let it get overcrowded."
The Rolling Stones
rolled into the club and began drinking heavily, reportedly drinking about five bottle of Jack Daniels in about two hours.. Police outside where trying to hold the crowds at bay. Here's an account from
Mississippi Blues Project
:
During Muddy's third song, there's a shot of the Rolling Stones entering the club and then one of their being seated at a table in front of the stage. Muddy invites them to "take your time" and have a drink, and then calls out for Mick Jagger to join him. Jagger, either coy or genuinely anxious about joining Muddy, needs a few requests from the master before he gets up with him.
Soon Muddy says "What about Keith?" and Keith Richards and later Ron Wood also get up on stage, both furiously puffing cigarettes while playing guitar, the cigarettes never leaving their mouths, almost as if they were fig leaves in post-fall Blues Eden. They are kind of a comical duo to be sure (I wonder how they get any actual oxygen to breathe as well!).
The article
continues,
Muddy and Mick sing "Hoochie Coochie Man" together, and when Mick sings the line, "I was born for good luck," Muddy replies, "I see that!" It's hard not to see this exchange in a broader context than just the song.
The high point
for many who were there was when Mannish Boy was performed, At the point of the song where Muddy sings, "I'm a Rolling Stone!" the British rockers lustily and (drunkenly) joined in.
Once more,
Mississippi Blues Project describes the scene,
Muddy calls out for Buddy Guy, who joins the group on stage repeatedly embracing Jagger. Muddy also calls for Junior Wells, who embraces Muddy and seems largely unaware of Jagger. Perhaps I'm reading too much into this, but some deep blues fans have been troubled by Buddy's relationship with the rockers, how he seems to defer to Eric Clapton, and appears to get on board with each ephemeral rock phenom that comes along. To be sure, Buddy has talked about how some of the greats of Chicago blues didn't get what they should get, and he was determined that would not be his situation. Junior seemed less interested in courting the rockers.
In spite of Junior Wells
ambivalence, it was such a perfect "spontaneous" moment. Here was the old blues master passing the torch to his namesakes, some already old and repected rock and rollers. The show was soon widely circulating in the bootleg community and severakl years later the film would be released on DVD. It was on of the last notable event of Muddy Waters life. You can tell from the clips that Muddy Waters was having a great time.
Album:
Muddy Waters & The Rolling Stones Live At The Checkerboard Lounge, Chicago 1981 DVD/CD
Muddy Waters
1981
Sweet Little Angel 3:43
Flip Flop and Fly 1:55
Introduction 1:45
Down the Road I Go 5:47
Country Boy 10:28
I'm a King Bee 4:38
Someday Baby 2:52
County Jail 5:04
Baby Please Don't Go 11:50
Hoochie Coochie Man 4:40
Long Distance Call 4:44
Mannish Boy 8:06
Champagne and Reefer 4:34
Next Time You See Me 4:51
Talking About My Woman 6:45
I Want to Be Loved 2:03
I Can't Be Satisfied 2:30
I Just Want to Make Love to You 4:00
Muddy Waters Last Days
When Muddy Waters
played with the Rolling Stones it wasn't his last big name collaboration. The next year he would perform at a festival with Eric Clapton. Still, Muddy was getting to be an old man and his health was down more than up. On April 30, 1983 Muddy Waters passed away peacefully at his home in the upscale Chicago suburb of Westmont, Illinois, It was heart attack as he slept that ended the life of perhaps the greatest blues player in history.
The funeral
was held at Restvale Cemetary in Alsip Illinois. A large crowd of fellow blues musicians, fans, and the press showed up to pay their respects. An era in musical history was at an end.
Muddy Waters
has already a legend while he was still alive. Six times in the 1970's he won the Grammy for "Best Ethnic or Traditional Folk Recording" and in 1980 he was given a place in the Blues Foundation Hall of Fame.
After he died,
the world really realized what they had lost and the accolades came rolling in. In 1985 the City of Chicago honored Muddy Waters' legacy by designating a one-block section between 900 and 1000 E. 43rd Street in Weston, Illinois near his former home "Honorary Muddy Waters Drive".
A Mississippi
Blues Trail marker was been placed in Clarksdale, Mississippi by the Mississippi Blues Commission marking the site of Muddy Waters' childhood cabin.
In 1987
he was added to the Rock and Roll Hall of Fame. four of his records would be listed in their 500 Songs That Shaped Rock and Roll: 1950's
Rollin' Stone
, 1954's
Hoochie Coochie Man
, 1955's
Mannish Boy
and 1957's
Got My Mojo Working.
In recognition
of his career and inflence in 1992 he was awarded the Grammy's "Lifetime Achievment Award".The U.S Postal Service issued a stamp in tribute to Muddy Waters in 1994, as well.
The Blues Foundation Awards
named his albums as Reissue Album of the Year in 1994 and 1995 with
The Complete Plantation Recordings
and
One More Mile.
The Traditional Blues Album of the Year 2000 was given to Muddy Water posthumously for
The Lost Tapes of Muddy Waters.
In 2002
, The Blues Foundation Award for Historical Blues Album of the Year was given to the reissue of Fathers and Sons. Again in 2006, the Historical Album of the Year for
Hoochie Coochie Man: Complete Chess Recordings, Volume 2, 1952–1958.
Sadly,
the home at 4339 S. Lake Park Ave, which served as his headquarters for 20 years from 1954-1974, and the place he wrote
Can't Be Satisfied
, has sat vacant for more than a decade and is now in danger of being lost to history. The house had passed among family members for decades before being foreclosed upon after a period if excessive refinancing in 2012. As of July 2014, The
Washington Post reported
that a purchase was pending but offered no information about the buyer or their intentions. Blues Purists and local historians hope that a museum will be made in the property but as things stand now there is no public plan in place.
Muddy Waters
doesn't show any signs of slowing down in popularity. His sound has become a part of the American tapestry. Reissues and compilation albums are regularly released. I have several, but rather than continue adding the the playlist with collection after collection, I will feature the other albums I have in my Amazon gift shop for this post, if you want to check them out.
Signing Off and Coming Attractions
Next Week:
Help us get in the Halloween season as our journey up the decommissioned
Highway 101
takes us to Old Town
San Diego
,
California
, where we meet up with some ghosts at the Whaley House.
Two Weeks:
The Wild Man of The Loxahatchee is another character to get you in the Halloween mood as we explore the area near
Jupiter
,
Florida
on out rip up
Interstate 95
.
Three Weeks:
Another Halloween character could be a Howlin' Wolf . We will look at the life of the real Howlin' Wolf as we constinue to explore
Chicago
,
Illinois
, The start of
Route 66
.
Route 66:
0 Miles/1 State/694 Tracks/166 Videos/31 Posts
Highway 101:
22 Miles/2 Countries/1 State/512 Tracks/205 Videos/23 Posts
Interstate 95:
84 Miles/1 State/30 Tracks/70 Videos/9 Posts
To get more Old Highway Notes by email, enter your email address:
Delivered by
FeedBurner
If you like what you have read here I'd like to ask you a favor.

If you purchase any item on Amazon after you link to them in the little Amazon search window below, I will get a little something from them. It doesn't cost you any extra and I cannot see what you have purchased. With your help, I can keep the show on the road for you.
Thanks!
To read more Old Highway Notes,
choose an off ramp and click on the highway sign: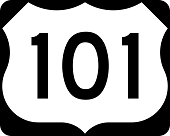 Vista Points

-Be social, Get more info, View our YouTube playlist
Visit our Gift Shop

-It has new items every week!