Muddy Waters was without a record contract
when Chess Records stopped recording new music. His success with The Band left him in a good position to hit the road and make some money on tour, Tour he did! During 1976 he performed 184 times according to
The Official Muddy Waters Website
.
In 1976,
Muddy Waters played mostly club dates in the US and Canada. That fall, in October, he had a series of concerts in Europe. The band was hot and recordings were made. A few semi-bootleg albums from those performances make our playlist from 1976.
Album:
Muddy Waters: Live in Switzerland 1976, Vol. 1 (Landscape)
Muddy Waters
After Hours 7:59
Medley - Floyd's Guitar Blues - Blue Lights 8:51
Boogie Thing 3:14
Chicken Shack 2:32
Going Down Slow 7:26
What's The Matter With The Mill 5:05
Hoochie Coochie Man 3:15
Howlin' Wolf 7:53
Everything's Gonna Be Alright 5:13
Theme 1:04
Dust My Broom 5:01
You Left Me With A Broken Heart 6:28
Nothing But Soul 7:03
I Got A Mind To Travel 12:13
After Hours_Band Introduction 9:14
Stormy Monday Blues 7:54
Walking Blues 4:02
Rollin` And Tumblin` 4:24
I Got My Mojo Working 3:29
Take A Little Walk With Me 8:10
For You My Love 6:03
Album:
Screamin' & Cryin' - Live In Warsaw 76
Muddy Waters
Baby Please Don't Go 2:52
Soon Forgotton 4:56
Corrina, Corrina 3:41
After Hours 5:46
Hoochie Coochie Man 3:06
Junior Shuffle 4:45
Howlin' Wolf 6:28
Floyd's Guitar Blues 7:50
Blow Wind Blow 3:54
Caldonia 6:01
Screamin' And Cryin' 5:18
Got My Mojo Working 3:03
Garbage Man 5:53
J.P.'s Boogie 3:32
Goin' Down Slow 7:22
What's The Matter With The Mill 4:54
Rather than telling you
what Muddy Waters sounded like on that tour, I'm going to let the music speak for itself. A video from his performance in Dortmund, Germany on October 29 is also widely bootlegged and available on YouTube. Thanks to YouTube User
00liadon
for posting it.
Upon his return to the states,
Muddy Waters re-entered the studio. He had a new label, Blue Sky Records, and a new producer, blues rock disciple and virtuoso in his own right, Johnny Winters. Winters encouraged Muddy Waters to return to the classic blues that made him instead of chasing down the inlikely hybrid formulas that were the mainstay of his later Chess Records career. The record would not come out until January of the next year. Before the album would be released Muddy made a concert appearance that would add to his legendary status.
On Thanksgiving weekend,
November 25 1976,
The Band
, who Muddy had recently worked with, held a farewell concert to celebrate their career and the formal disintegration of The Band. Billed as the
The Last Waltz
, the concert was to be produced by legendary concert promoter Bill Graham in his Winterland Ballroom in San Francisco. Muddy Waters as well as Paul Butterfield, Bob Dylan, Neil Young, Emmylou Harris, Ringo Starr, Ronnie Hawkins, Dr. John, Joni Mitchell, Van Morrison, Ronnie Wood, Neil Diamond, Bobby Charles, The Staple Singers, and Eric Clapton all joined The Band for cameo appearances during the concert.
Martin Scorsese shot a documentary
of the concert. Released as
The Last Waltz,
the film is considered to be one of the best rock and roll films of all time.
Recently
, in many cities around the country, an annual tradition has begun where the concert is reenacted Thanksgiving weekend using local musicians to raise money for issues that affect their community, such as health care for musicians. I have been attending the Portland version for the last several years and the variety of songs and rock and roll flavors really make it a great showcase for local talent.
One of the standout moments
in the film is Muddy Waters performance. Not just because he was red hot as a performer in that moment, but also due to a fortunate technical failure. Due to a breakdown among the camera crew, there was only one working camera for Muddy Waters performnance of
Mannish Boy
, Recognizing the importance of the artist, the cameraman ran his single camera using a very slow zoom on on Muddy Waters as he performed the song.. Since there are no camera changes or varying angles to the shot for most of the song the strength and simplicity of the shot showcase the strength and simplicity of Muddy Water's music, A powerful piece of film!
As 1977 began
, blues fans had the opportunity to hear the music that producer Johnny Winter had coaxed out of Muddy Waters.
Hard Again
was his best recording in a while Recorded in just three days, the album mixed classic songs from Muddy's catalog with some new numbers and featured his touring road band. The album climbed to 143 on the Billboard 200, where Muddy had not been since 1970's
Fathers and Sons.
It would also get that years Grammy for the "Best Ethnic or Traditional Folk Recording" of the year. It is a return to Muddy's roots as Johnny Winter seemed to remind him that his blues was powerful enough to do the job and he did not need to piggyback onto any other musical gimmicks like Chess Records was so keen to make him do.
Album:
Hard Again
Muddy Waters
Mannish Boy 5:26
Bus Driver 7:49
I Want To Be Loved 2:23
Jealous Hearted Man 4:26
I Can't Be Satisfied 3:32
The Blues Had A Baby And They Named It Rock And Roll (#2) 3:38
Deep Down In Florida 5:28
Crosseyed Cat 6:02
Little Girl 7:06
The success
of Hard Again, made another Johnny Winter album the logical follow up for Muddy Waters on Blue Sky Records. It was his thirteenth studio album. Once again Johnny Winters had Muddy and and his band follow the formula of mixing classic songs with new numbers, The album did not really have a breakout song, so it did not fare quite as well on the Billboard charts as his pervious effort,
Hard Again
. Still the
critics loved it
and the album went on to take home a Grammy that year,
Album:
I'm Ready
Muddy Waters
I'm Ready 3:26
33 Years 5:20
Who Do You Trust? 5:00
Copper Brown 4:58
I'm Your Hoochie Coochie Man 4:00
Mamie 5:36
Rock Me 3:55
Screamin' And Cryin' 5:05
Good Morning Little School Girl 3:22
Muddy Waters 14th studio album
, his third with Johnny Winters on the Blue Sky Label was
King Bee
. Sadly it was to be his last. It was May of 1980. After three days in the studio the production was halted. A salary dispute between the band and it manger interuppted the proceedings. Muddy's health had been failing, so the recordings did not live up to his standards. Regardless, Blue Sky didn't want Muddy Waters momentum to slip. The label worked with what they had., Outtakes from
Hard Again
were added to fill up the disc and the album was released in 1981.It was not one of his best and did not recieve the awards or acclaimation of the last two Blue Sky albums. Since Muddy Waters did not like this album, and it really doesn't offer anything to dispute his opinion we leave it off of the playlist.
Signing Off and Coming Attractions
The passing of Johnny Winters
earlier this summer as I was doing preliminary research on this post was coincidental. However, it gave me the opportunity to hear a lot about Johnny Winters contributions to Muddy Waters career. It also opened my eyes to an artist I was not very familiar with. RIP Johnny Winters, I hardly knew ye'.
Next time we are Route 66
, we will be wrapping up Muddy Waters and have afew more bluesmen to look at before we actually begin to make some forward progress down Route 66. I suspect that things will pick up speed when we finally make it out of Chicago.
Chicago has a birthed a lot of music
being such a huge city. We will never be able to cover it all and we must be moving on. Do you have a Chicago artist that feel is too important too overlook? A simpler question, who is your fovorite blues singer? Let us know in the comments.
Next Week:

We will be in San Diego, California following the old Highway 101 past some Planes, Trains and Automobiles.

Two Weeks:

Jupiter, Florida has some great history and gorgeous beaches that we will be checking out as we continue up Interstate 95
Route 66:

0 Miles/1 State/676 Tracks/161 Videos/31 Posts

Highway 101:

19 Miles/2 Countries/1 State/503 Tracks/186 Videos/23 Posts

Interstate 95:

84 Miles/1 State/30 Tracks/70 Videos/9 Posts

If you like what you have read here I'd like to ask you a favor.

If you purchase any item on Amazon after you link to them in the little Amazon search window below, I will get a little something from them. It doesn't cost you any extra and I cannot see what you have purchased. With your help, I can keep the show on the road for you.
Thanks!

To read more Old Highway Notes,
choose an off ramp and click on the highway sign: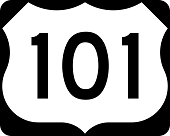 Vista Points

-Be social, Get more info, View our YouTube playlist






Visit our Gift Shop

-It has new items every week!